our people.
As the challenges we face become even more complex, collaboration is now one of the most valuable leadership capabilities.

For more than 15 years, we have partnered with some of the world's most exciting companies to help them break down silos and develop leaders who can inspire collaboration.

Working with teams around the world, we have developed a proven approach that ensures the right attitudes, behaviours and conditions are generated for collaboration to flourish.
Miles

Miles has led the growth of The Collaboration Company from a start-up into a globally recognised specialist collaboration consultancy. He has seen at close hand a huge range of collaboration programmes and projects across a variety of clients, sectors and geographies.

Miles works with senior leaders who are similarly excited and inspired by the potential of collaboration but often stuck as to how to make it happen. These experiences mean Miles' advice reflects the realities of collaboration and he is increasingly asked to speak to boards, companies and at conferences on topics such as leadership in the age of collaboration, building collaborative cultures and capability and personal creative confidence. Miles lives in Leicestershire with his wife Tiffany and his three children, who rate his hard-earned certificate as a LEGO Serious Play Facilitator as his standout career highlight.





Pete

Pete loves working with clients and prides himself in delivering exceptionally engaging workshops and cutting-edge learning programmes. Pete is a people person and his passion for working together with others ensures his client projects have collaboration at their core.

Pete has a marketing background and has been working with clients in multiple sectors for over 15 years. His diverse industry experiences in both the public and private sector help Pete bring together knowledge and insight from very unrelated worlds. His early experiences focused on developing consumer brands before Pete moved into the L&D space providing consultancy to public sector organisations. At The Collaboration Company, Pete is one of our lead consultants and has worked with many clients including; British Airways, Nike and Santander. Pete also leads on our exclusive Challenge24 Leadership Development programme.

Outside of work Pete is mostly found either playing sport or spending time with his young family…often combining the two as his son follows in his footsteps of playing football, cricket and golf whilst supporting their beloved West Bromwich Albion.
Oriana

Oriana is a true believer in the power of collaboration so is keen to use her skills to spread the word. Oriana facilitates collaboration workshops and also communicates and raises awareness of The Collaboration Company's work. This she does through developing and managing new business across all learning programmes and business services as well as via devising content for all social media channels.

Oriana is most excited by the work The Collaboration Company does in its quest to create an army of creatively confident and collaboratively savvy leaders and relishes the opportunity to use creative approaches within sessions.

Prior to joining The Collaboration Company, Oriana spent 12 years marketing FMCG brands such as Capri Sun, Dairylea, Worthington & Carling. 9 of those years were working with Miles Hanson at marketing consultancy The Marketing Store Worldwide.

When not working Oriana likes to ceroc; a partner dance that needs a lot of collaboration, raise awareness of other things she is passionate about; villa holidays in Tuscany plus her greatest challenge is instilling collaborative values in her two boys!












Becky

Becky joined the Collaboration Company in 2018 to lead on Ideathon and shape and develop our programmes and products for people and organisations. As well as developing programmes, Becky is responsible for the smooth running of workshops and events to ensure the highest levels of project management and attendee experience.

Prior to working at the Collaboration Company, Becky worked in event agencies running conferences, product launches, awards dinners and exhibitions across Europe for 20-2000 people. Here she gained a love of seeing a project through from concept to completion and honing the skill of problem solving on the spot!

Outside of work, Becky lives with her husband Joe and young daughter Robyn, who keeps them both very busy. Becky is a keen tap dancer, music festival goer and with a WSET Level 2 qualification in Wine and Spirits she considers herself a sommelier in training.
Fran

Fran joined the team at the end of 2019 and both project manages and facilitates workshops, focusing on working with clients to allow their leaders to unlock their collaborative capabilities, allowing businesses to excel in using collaboration effectively.

Having previously worked in a variety of sectors including retail management and teaching,Fran has always maintained a curiosity about human behaviour, interaction and the impact of collaboration on teams. She is a qualified coach working to support people to achieve their goals, with a specialism in leadership development.

Fran lives in Leicestershire with her family and enjoys exploring the countryside with her springer spaniel. She is an unlikely triathlete, an accomplished saxophonist and has a slight chocolate addiction.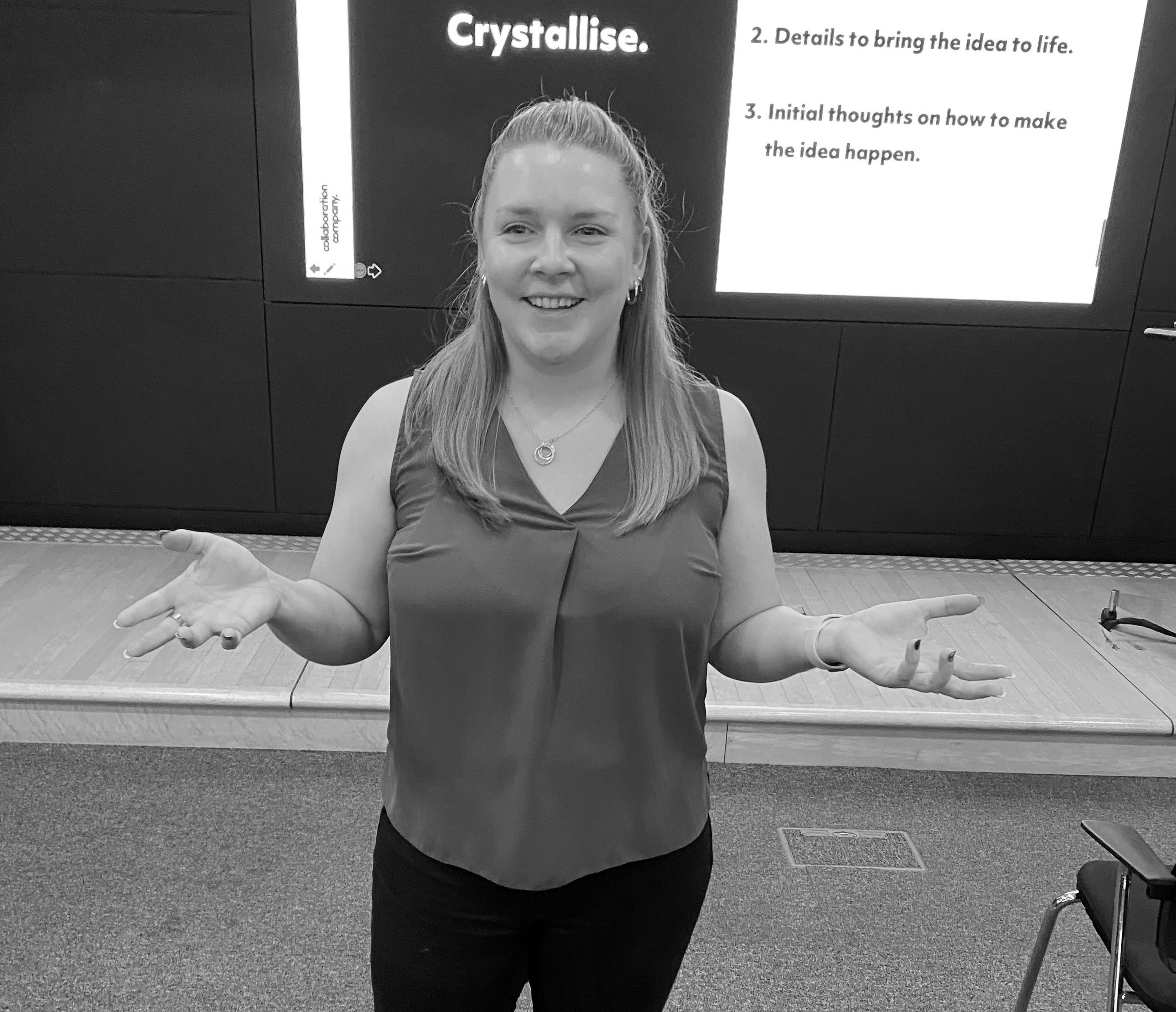 Rosie

Rosie teams her expertise in human behaviour with her love for learning and development by blending a career in Psychology with a passion for helping people to build their skills and confidence on an Individualised basis. She enjoys bringing out the holistic collaborative nature of teams; helping people to build ideas that are bigger and more impactful than the sum of the individual ideas as a group.

Whilst working in the education sector Rosie's main facilitation focus was on Educational Neuroscience and Mental Health & Wellbeing. As an experienced leader, her capability of observing and coaching lends itself well to being our lead collaboration assessor. Rosie's facilitation style is energetic, encouraging and perceptive; ensuring that everyone has a chance to learn and collaborate in the way that suits them best.

Outside of work Rosie spends her time singing, walking, skiing and socialising with friends. She also has an unusual talent of Wedding cake making and enjoys creative activities like crochet!